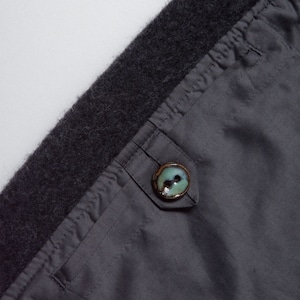 半纏 (Japanese short coat)
性別の差や年齢の差などあらゆる垣根を越えたアイテムをイメージする中で、日本国内において古くから着用されてきた半纏をデザインベースに、玄関のつっかけのように老若男女を問わず家族や大切な人と『共有する服』をテーマに再構築された「半纏(Japanese short coat)」。

自社工場による着心地とシルエットへのこだわりを反映した裁断・縫製により、従来の綿入りタイプの半纏と比較して、防寒性と遮風性だけではなくそのデザイン性をも飛躍的に向上。
身体の動きに合わせた曲線のパターンを用いることで、室内着に留まらず、屋外でも着用できるファッショナブルなアウターに仕上げました。

表地には世界三大毛織物産地の一つである、尾州の再生羊毛''毛七''で作られたダブルフェイスのメルトン生地を採用。
リサイクルウールでありながら旧式織機で丁寧に織り上げられたこの生地は、しっかりとした厚みがありながら柔らかく弾力性があり、あたたかさと着心地の良さを両立した素材です。

裏地には旭化成株式会社が世界で唯一供給している、コットン由来の再生繊維であるキュプラ生地''ベンベルグ''をフルライニングにて使用しています。
ベンベルグは繊維の表面がなめらかで摩擦が生じにくいため袖通りもよく、ストレスフリーに羽織ることができます。

内ポケットを留めるボタンとして、長野県指定伝統的工芸品''松代焼''の陶器ボタンを、松井窯松代陶苑にて完全別注で製作いただきました。
青流しと呼ばれる独特の青緑色の光沢が、半纏の内側において粋なアクセントとなります。

お届けの際にはco:do専用のボックスを、
包装紙には阿部製紙のご協力のもと、経済産業大臣指定の伝統的工芸品である''内山紙''の和紙を使用しております。
包装紙としての役目を終えた後も、ランプシェードやランチョンマットとして長くお楽しみいただけますと幸いです。

尚、noteにて半纏に使用した生地やボタンの生産工程など詳細な情報がご覧いただけます。
https://note.com/_codo_/m/mc33a76c61b3f

■カラー
チャコールグレー
■サイズ
-01, 00, +01
■寸法
−01 着丈:74cm 胸回り:124cm アームホール:62cm 裄丈:69cm
00 着丈:76cm 胸回り:132cm アームホール:64cm 裄丈:72cm
+01 着丈:79cm 胸回り:142cm アームホール:68cm 裄丈:76cm
※男性モデル172cm(サイズ00着用) 女性モデル158cm(サイズ00着用)
■素材
表地:リサイクルウール70%/ポリエステル15%/アクリル10%/ナイロン5%
裏地:コットン53%/キュプラ47%
■原産国
素材、縫製ともに日本製

※こちらの商品の送料は日本国内一律で1200円頂戴しております。
※海外送料はEMS料金に基づき実費で頂戴しております。詳細はinformation「商品の海外発送のご対応について」をご確認下さい。
※ご注文を頂いてから5営業日以内に発送いたします。
※商品に欠陥がある場合を除き、基本的に返品には応じません。
*Tax included.
*Additional shipping charges may apply, See detail..

About shipping fees
The shipping fee for this item varies by the shipping method. Customers can choose the shipping method at time of purchase.
ヤマト宅急便 co:do段ボール(大)

100サイズ、日本国内一律料金

Shipping Fees are the same all over country inside Japan ¥1,200
EMS

This shipping supports package tracking and compensation for damages.

Regional setting

Afghanistan

Bangladesh

Bhutan

Brunei

Cambodia

China

Guam

Hong Kong

India

Indonesia

Laos

Macao

Malaysia

Maldives

Marshall Islands

Micronesia, Federated States Of

Mongolia

Myanmar

Nepal

North Korea

Northern Mariana Islands

Pakistan

Palau

Philippines

Singapore

South Korea

Sri Lanka

Taiwan

Thailand

Timor Leste

Vietnam

Australia

Christmas Island

Cocos (Keeling) Islands

Cook Islands

Fiji

French Polynesia

Kiribati

Nauru

New Caledonia

New Zealand

Niue

Norfolk Island

Papua New Guinea

Pitcairn

Samoa

Solomon Islands

Tonga

Tuvalu

Vanuatu

Wallis and Futuna

American Samoa

Anguilla

Antigua and Barbuda

Aruba

Bahamas

Barbados

Belize

Bonaire, Sint Eustatius and Saba

Canada

Cayman Islands

Costa Rica

Cuba

Dominica

Dominican Republic

El Salvador

Grenada

Guadeloupe

Guatemala

Haiti

Honduras

Jamaica

Martinique

Mexico

Montserrat

Netherlands Antilles

Nicaragua

Panama

Puerto Rico

Saint Barthélemy

Saint Kitts and Nevis

Saint Lucia

Saint Martin

Saint Pierre and Miquelon

Saint Vincent and the Grenadines

Sint Maarten

Trinidad and Tobago

Turks and Caicos Islands

U.S. Virgin Islands

United States

Virgin Islands, British

Bahrain

Cyprus

Iran, Islamic Republic Of

Iraq

Israel

Jordan

Kuwait

Lebanon

Oman

Palestinian Territory, Occupied

Qatar

Saudi Arabia

Syria

Turkey

United Arab Emirates

Yemen

Aland Islands

Albania

Andorra

Armenia

Austria

Azerbaijan

Belarus

Belgium

Bosnia and Herzegovina

Bulgaria

Croatia

Czech Republic

Denmark

Estonia

Faroe Islands

Finland

France

Georgia

Germany

Gibraltar

Greece

Greenland

Guernsey

Holy See (Vatican City State)

Hungary

Iceland

Ireland

Isle of Man

Italy

Jersey

Kazakhstan

Kosovo

Kyrgyzstan

Latvia

Liechtenstein

Lithuania

Luxembourg

Malta

Moldova

Monaco

Montenegro

Netherlands

North Macedonia

Norway

Poland

Portugal

Romania

Russia

San Marino

Serbia

Slovakia

Slovenia

Spain

Svalbard and Jan Mayen

Sweden

Switzerland

Tajikistan

Turkmenistan

Ukraine

United Kingdom

Uzbekistan

Argentina

Bolivia

Brazil

Chile

Colombia

Curaçao

Ecuador

Falkland Islands (Malvinas)

French Guiana

Guyana

Paraguay

Peru

Suriname

Uruguay

Venezuela

Algeria

Angola

Ascension Island

Benin

Botswana

Burkina Faso

Burundi

Cameroon

Canary Islands

Cape Verde

Central African Republic

Ceuta and Melilla

Chad

Comoros

Congo

Congo, The Democratic Republic Of The

Côte d'Ivoire

Djibouti

Egypt

Equatorial Guinea

Eritrea

Eswatini

Ethiopia

Gabon

Gambia

Ghana

Guinea

Guinea Bissau

Kenya

Lesotho

Liberia

Libya

Madagascar

Malawi

Mali

Mauritania

Mauritius

Mayotte

Morocco

Mozambique

Namibia

Niger

Nigeria

Reunion

Rwanda

Sao Tome and Principe

Senegal

Seychelles

Sierra Leone

Somalia

South Africa

South Sudan

Sudan

Tanzania

Togo

Tristan da Cunha

Tunisia

Uganda

Western Sahara

Zambia

Zimbabwe

Bermuda

Bouvet Island

French Southern Territories

Heard Island and McDonald Islands

Indian Ocean Territory, British

Saint Helena

South Georgia and the South Sandwich Islands

Tokelau

United States Minor Outlying Islands
co:do – 半纏 Japanese short coat
[video director]
Banri Kobayashi (Diaspora skateboards)

[beat]
JJJ (FL$Nation,AWDR/LR2)

[logo design]
吉田雅祟 (VAV, SUEKKOLIONS©)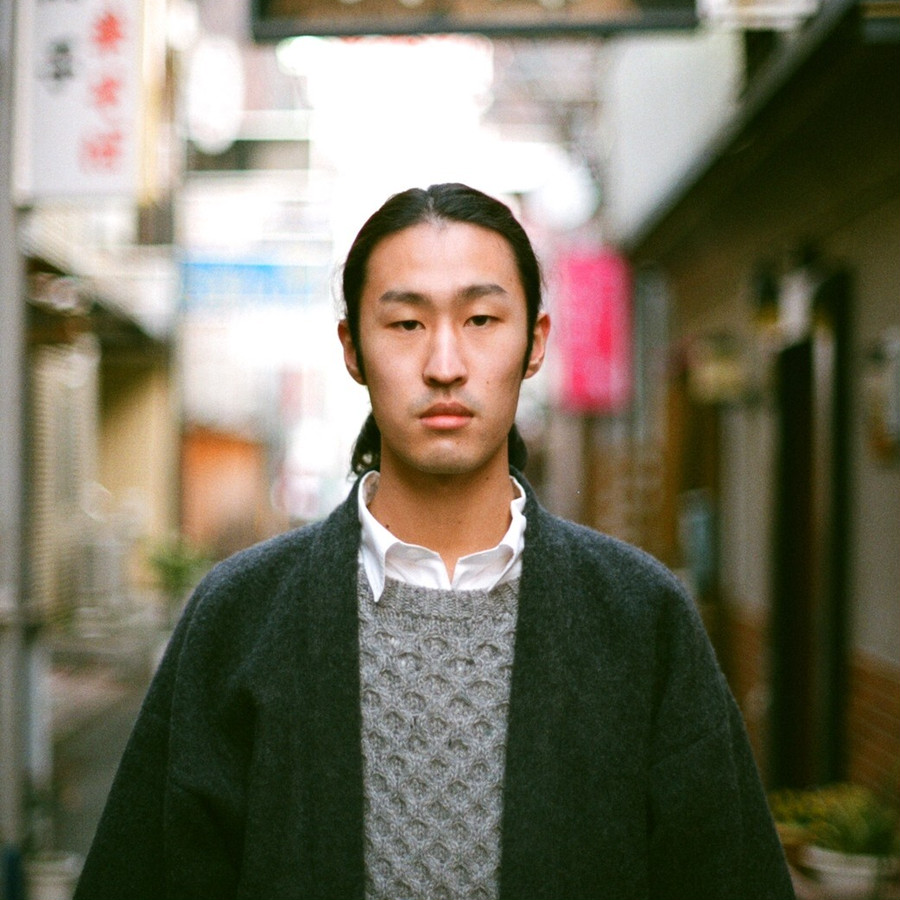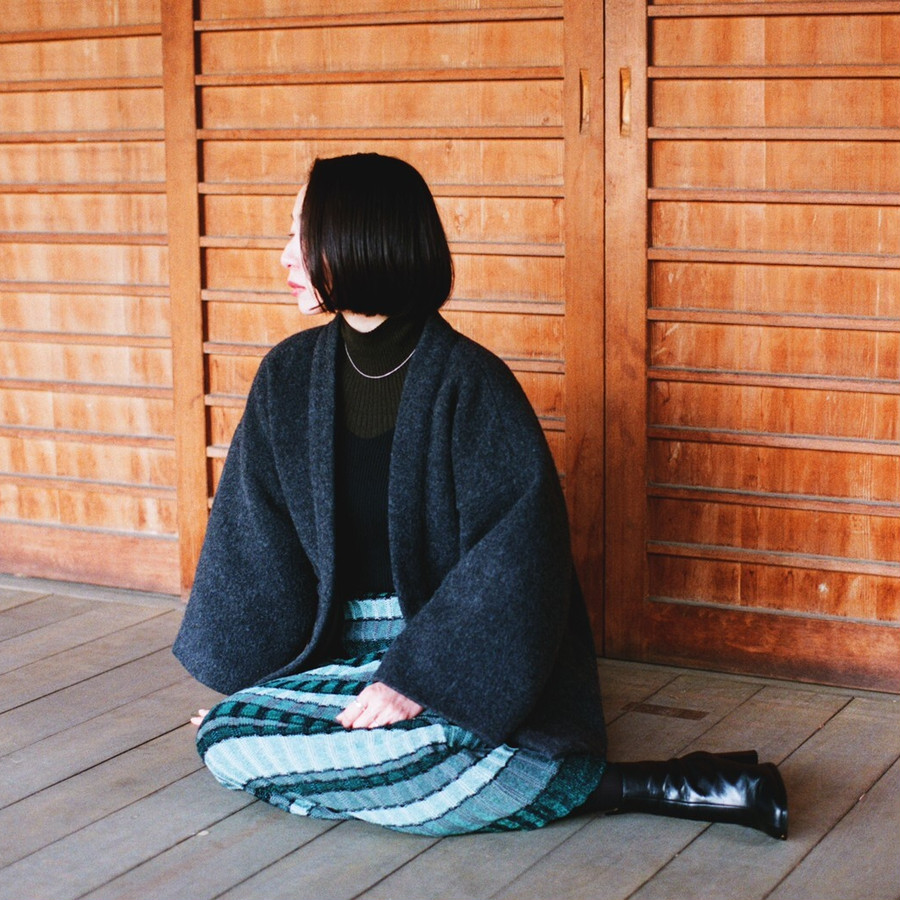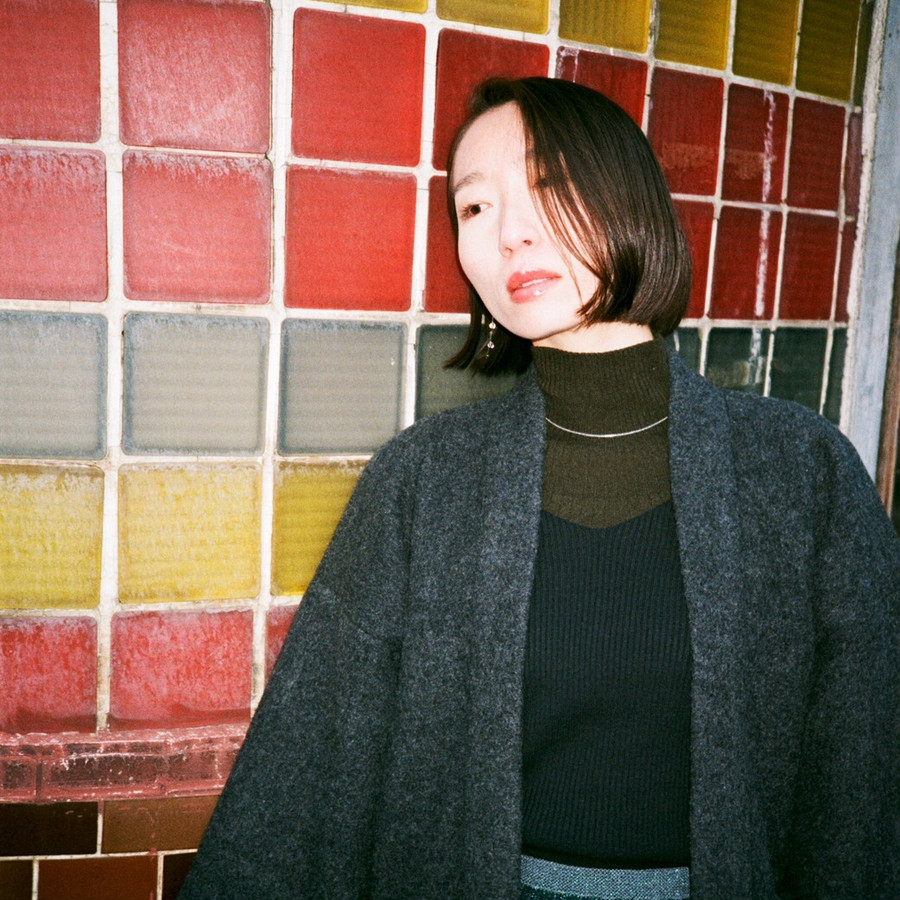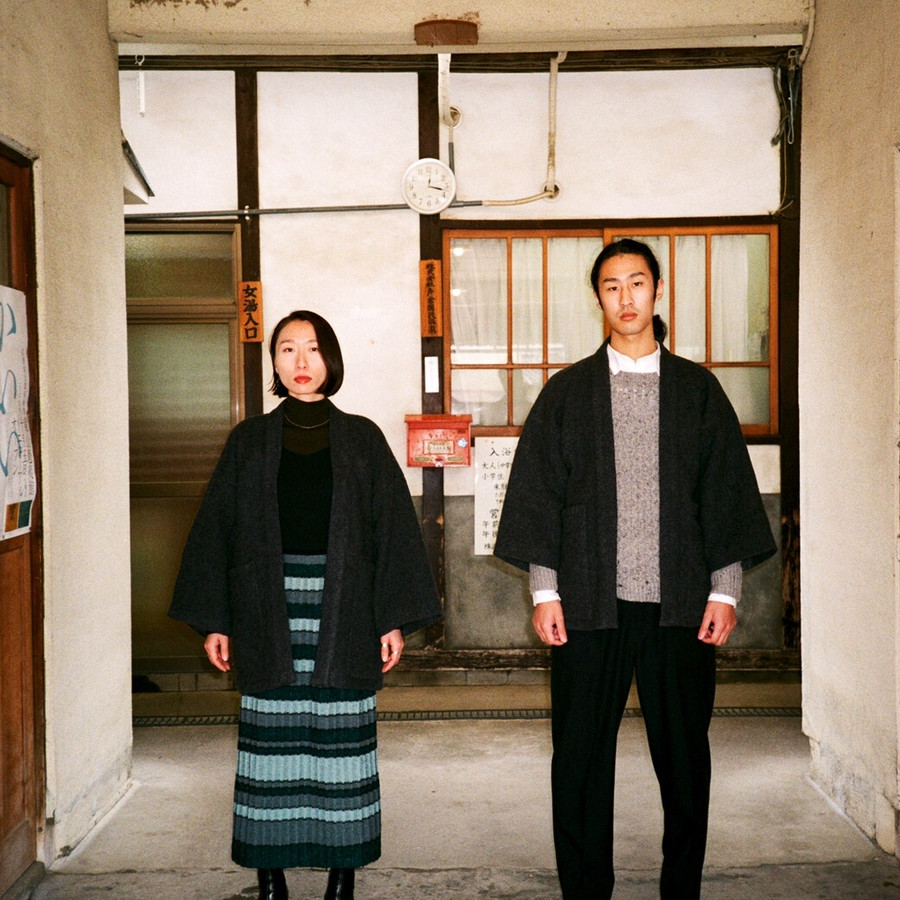 https://www.c-o-d-o.jp/look/1_hanten.php

[photographer]
Cho Ongo (Diaspora skateboards)

[location]
千曲川河川敷
戸倉上山田温泉新世界通り
カラコロの足湯
戸倉国民温泉
姨捨棚田
株式会社サンリード
玉腰整毛有限会社
令和毛織
松代焼松井窯窯元松代陶苑
フレックスジャパン株式会社
Description of item in English
Hanten (Japanese short coat)

Hanten is a traditional winter coat which has been worn since the 18th century in Japan.
Traditionally worn inside the house for comfort, we have chosen to update the design to reflect a more modern global aesthetic.
We wanted to create the coat which could be worn by anyone regardless of gender or generation.
Taking inspiration from both western and Japanese cutting styles we have come up with an innovative hanten.
You could coordinate also with western clothes while feeling the taste of Japan.
Our fabric, called "Keshichi", utilizes 70% recycled wool.
Keshichi is a traditional sustainable wool which has been produced for over 60 years in Bishu are famous for woolen fabrics production area where the historic region in Aichi and Gifu Prefecture in Japan.
Waste thread, scraps of fabric or woolen clothes as raw materials collected from all over the country are sorted by hand one by one.
Despite using such a recycled wool as its raw material, Keshishi fabrics has rich texture because of woven on a vintage loom and craftsmanship.
We made Double Face Melton wool from Keshichi is renowned for providing durability, warmth and comfort.
It can trap and retain air making it similar to a down jacket.
Besides, we decide to be using Matsushiro-yaki pottery button for inside pockets.
Matsushiro-yaki is a traditional craft of Nagano prefecture which was born in the late Edo period.
We asked for producing the pottery button to the potter "Matsui-kama Matsushiro-touen" which has been around a long time.
The buttons are handcrafted and made only with 100% natural ingredients in the raw materials and the glaze.
Furthermore, the beautifully dripping glaze, which can be said to be a characteristic of Matsushiro-yaki, has a different appearance for each buttons.
When delivering, we will send it with wrapped in Japanese paper "Uchiyama-gami".
Uchiyama-gami is the one of traditional Japanese paper made in the Oku-shinano region of Nagano prefecture since early Edo period, and this craft uses 100% paper mulberry for its raw material which gives the paper excellent strength, air permeability, translucency, and heat retention.
During winter, tree bark fibers are bleached by spreading them on top of the snow. This method, called "Yuki-sarashi", makes use of the ozone that is naturally released by the melting snow.
This process what use of their natural resources with no chemicals, makes Japanese paper a strength that is capable of withstanding cold and damp weather, and a soft texture.
■ Color
Charcoal gray
■ Size
-01, 00, +01
■ Measurement
[-01] Length: 74cm, Chest: 124cm, Armhole: 62cm, Sleeve length: 69cm
[00] Length: 76cm, Chest: 132cm, Armhole: 64cm, Sleeve length: 72cm
[+01] Length: 79cm, Chest: 142cm, Armhole: 68cm, Sleeve length: 76cm
* Male model 172 cm (wearing size 00) Female model 158 cm (wearing size 00)
■ Material
Outer fabric: 70% recycled wool / 15% polyester / 10% acrylic / 5% nylon
Lining: 53% cotton / 47% cupra
■ Country of origin
Made in Japan
* Overseas shipping fee will be charged separately based on the EMS fee.
* We will ship within 5 business days after receiving your order.
* We do not accept returns unless the product is defective.